Are you looking for innovative ways to increase online sales on your eshop? Looking to serve your customers the same way you do as in your physical store? Then, e-Marketer is the personalization marketing tool you are searching for.
On February 26th, 2021, Social Mellon participated in the 2nd GR.EC.A Friday's Workshop to present e-Marketer to the members of GR.EC.A. Katerina Dimitrakopoulou and George Karystianos, explained how eshop owners can use technology to offer personalized content and boost their conversion rate.  The members of GR.EC.A who attended the workshop -mainly eshop owners and professionals in e-commerce- had the opportunity to learn how they can benefit through e-Marketer's tools and engines.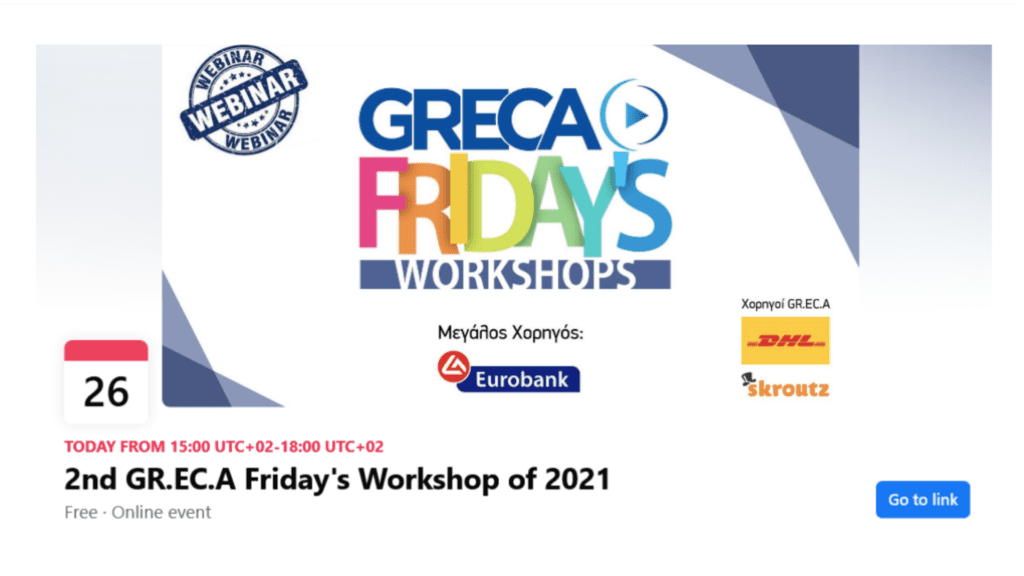 e-Marketer: a comprehensive personalization platform
e-Marketer features a complete toolkit that optimizes an eshop to boost online sales. It incorporates AI technology and machine learning to help you provide the best-personalized experiences to your customers. Moreover, e-Marketer links the data from all digital touchpoints and ultimately increases the:
number of returning visitors
traffic on the eshop
average order value
conversion rate
 e-Marketer: engines and strengths
How can this innovative personalization marketing tool revolutionize your customers' journey? Social Mellon's presentation for e-Marketer at GR.EC.A's webinar covered the function of its four main engines:
Smart Recommendation: 47 different algorithms work to provide each of your customers with the best-personalized suggestions for your products.
Personalization: tailored content and messages through A/B testing and dynamic landing pages.
Cross-channel Optimization: links your eshop with Google Analytics and 3d party tools to get the most out of your eBusiness data.
Dynamic Targeting: 70 criteria of smart targeting to achieve all of your goals.
 Elucidating e-Marketer's impact and results Katerina and George presented the case study of a famous Greek sports brand which used e-Marketer tools in order to boost their sales and improve customer's experience.
To better explain how e-MARKETER's engines work, our speakers gave some campaign examples from the case study of a Greek sports brand.
Read the complete PDF of our GRECA presentation about e-MARKETER.
e-Marketer: why choose it
 Offering your audience personalized experiences is a must-have strategy to stand out in the competition. e-Marketer is the only platform for e-shops in Greece that integrates all the required smart engines for outstanding tailored experiences. Trusting a marketing tool like this, not only will save you time and money from individual solutions, but will also increase your e-shop's revenue.
Social Mellon for Greek eCommerce Businessmen
Social Mellon's mission is to offer digital services and solutions of high quality to e-retailers in Greece. For this reason, we always stay updated on current issues of eCommerce and e-Business. It was an honor to take part in GR.EC.A's workshop, the role of which is the continuous education of professionals in our field.
Are you an eshop owner and aim at boosting your online sales? Contact us today.